WHO'S WHO - JAMES A. ELKINS, SR.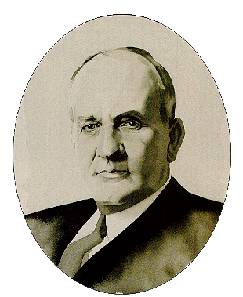 (1879-1972)
The late James Anderson Elkins, Sr. was a former county judge practicing law in Huntsville, Texas, when, in 1917, he realized that Houston, the burgeoning city to the south, was on the verge of tremendous growth. So the son of a sheriff decided to take a Houston friend up on his offer to start a law practice in the Bayou City. It was a gamble that paid off.
Elkins was born in Huntsville in 1879. His father a former Walker County sheriff, died when Elkins was just a boy. Reared by his mother Elkins attended public schools, went to what is now Sam Houston State University for a short time, then graduated from the University of Texas in Austin. After receiving his law degree in 1901, Elkins returned home to Huntsville, then served as county judge there from 1903 to 1905.
It was shortly after that that Elkins got an offer from his Houston friend, William Ashton Vinson, to open up a law practice together in the southeast Texas city that seemed so full of opportunity. It was a gamble that paid off. Though Vinson & Elkins had only three lawyers working for it in 1917, it employed more than 150 by the early 1970s and is still one of the biggest law firms in the state today. As the firm steadily grew, Elkins ventured into the banking industry, opening the Guaranty Trust Co. in 1924. Though tiny at first, the bank eventually grew into Houston's largest—First City National Bank.
But Elkins, who died in 1972 at the age of 92, was more than just the founder of a big Houston law practice and a highly successful banker. Politically well connected, many say Elkins was one of the most powerful business leaders in Houston during the city's most formative years. A newspaper article published a few years after his death carried this telling headline: "James A. Elkins Sr.: For Half a Century The Judge Held the Reigns of Houston Power."
His son, James A. Elkins Jr., a prosperous Houston businessman in his own right, says his father became as powerful as he did for a simple reason—he had a way with people. "He had a great ability to deal with people, and by that I don't mean to manipulate them, but to get them to react the way that he wanted," James Elkins Jr. said.
He was a hard-working, assertive man with a rough and gruff personality that was as much feared as it was revered. But underneath all of that, his son said, "was a warm and tender spirit and he had great compassion for people."
That compassion was evident in the number of charitable causes Elkins aided. In his lifetime, he was active with groups as varied as the Texas Equal Suffrage Association and St. Anthony's Home for the Aged.
Elkins also served on several other corporate boards and was a regent of the University of Houston. In 1962, he received the University of Texas distinguished alumnus award.
His son said that despite his father's busy corporate and political life, the elder Elkins always kept his family first. "He never excluded his family and we never suffered," the younger Elkins said. He may have been rich and powerful, but James Elkins knew what was really important.
Our Vintage Sponsors