WHO'S WHO - WALTER M. MISCHER, SR.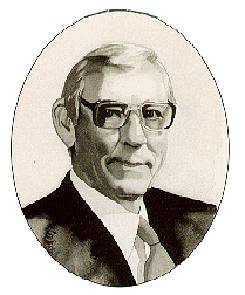 (1922-2005)
It is fitting that the late Walter Max Mischer, Sr.ís birthday was on the fourth of July.
The story of how he overcame hardship to become one of the stateís most powerful business leadersówhose influence spread to the highest offices in the nationís capitalóembodies the American dream. Mischer was born 75 years ago in a small South Texas town called Gillett to a prosperous ranching family. But his life changed dramatically at age 11 when his father was shot to death over a business deal, leaving behind young Walter, his mother, and two sisters. It was 1934 and the Depression was in full force.
Like so many of his contemporaries who also struggled during the Depression, Mischer said those years were perhaps the biggest influence on his life. Mostly, he said he remembers how he had friends when his family had money, then lost them as creditors slowly took over his fatherís ranch. "It really makes a mark on you."
Over the next several decades, Mischer acquired friends in the highest of places. As he became a hugely successful banker and real estate investor, he also became one of the stateís most influential political fundraisers, supporting both Democratic and Republican candidates.
On the national front, he helped send Barbara Jordan to Congress and was a major fundraiser for Sen. Lloyd Bentsen Jr. He also galvanized Texas support for Ronald Reagan, reportedly raising more money for the presidential candidate in 1980 than anyone else in the country.
Texas politics has been his specialty, however. Former Lt. Gov. Ben Barnes once called Mischer "the strongest man in Texas as far as raising money." Although Mischer has always resisted the suggestion that he has a political Midas touch, few would dispute his power. A 1990 book about wealthy Texans devotes a chapter to Mischer called "The Kingmaker."
Success didnít come easily, however. As a young man, Mischer strung fence along the King Ranch to pay his way through college. He quit school, though, to become a construction worker on a project in Victoria, Texas.
Just after World War II, Mischer moved to Houston looking for construction opportunities. It was a move that led to great success. Said Mischer, "I was in the right place at the right time."
Mischer soon branched out into real estate, putting together land deals. In 1971, Mischer and several other Houston investors founded Allied Bancshares Inc., which would grow to become one of the stateís largest bank holding companies. He remained as chairman of Allied until 1987, when it merged with First Interstate of Los Angeles.
Mischer headed up the Mischer Corp., which is mainly involved in real estate investment and development. Mischer owned vast property in West Texas, where he acquired more than 300,000 acres and developed a resort called Lajitas. He also had operations in Belize, where he and partners bought roughly 700,000 acres of virgin land. He has said he intended to be a home builder but decided there was more money in developing the land for home builders in return for a share of their profits. Subdivisions he had a hand in include Cinco Ranch, Briargrove Park, Briar Meadow, Fondren Southwest, Cypress Creek Lakes, Stablewood, River Park, Heritage Park, Oak Park Trails, The Park at Memorial Heights, The Vintage and Vintage Lakes.
Even though others that were in his position might be content to retire, Mischer said he had no plans to do so. "I really donít think Iíd know what to do if I did," he said. And another thing is certain, Mischer said. "Iíll never leave Texas."
Walter Max Mischer, the self-made real estate developer and banker who helped put dozens of politicians into office and countless Houstonians into suburban subdivisions, died Sunday, December 18, 2005, at his Memorial area home of a long illness. He was 83.
Our Vintage Sponsors