WHO'S WHO - JACK S. BLANTON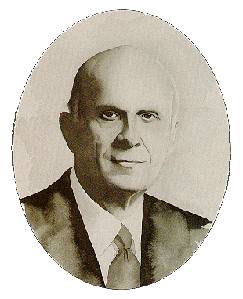 The late Jack Sawtelle Blanton was humble almost to a fault. A successful Houston oilman, public servant, and civic leader who was likely to tell you that he climbed the corporate ladder by marrying the bossís daughter. Blanton also would have probably said that the reason heís was asked to serve on corporate boards, held positions of civic leadership, and received numerous honors was because he was in the right place at the right time, always recommended for these positions by a biased friend. None of this is true.
When Jack Blanton graduated from UT law school in 1950, he did have a job at his father-in-lawís company, Scurlock Oil. He started on the lowest rung in the Division Order Department and eventually became president, using his marketing and people skills to make the company grow and expand. Blanton is credited with making Scurlock the company it eventually becameóone of the largest crude oil gathering and transportation entities in the country. In 1982, when Scurlock became a subsidiary of Ashland Petroleum Company and Blanton was named chairman and CEO, Scurlock was collecting 200,000 barrels of oil a day, transporting 2 percent of the nationís oil and had annual sales of 2 billion. Not quite nepotism.
It is clear that while Jack Blanton was successful in the oil business, his greatest achievements occurred outside his office in the role of civic leader. When he became chairman of the board of regents of the University of Texas in 1987, higher education in Texas was faced with a 26 percent budget reduction. Blanton had a hand in influencing the Texas legislature to more fully support the University of Texas system and therefore higher education.
It was during such tumultuous times as the oil and real estate crises of the Ď80s, while Blanton was Chairman of the Greater Houston Chamber of Commerce, that he was instrumental in resolving conflict. Blanton is a strong believer in the value of effective communication and good working relationships. Those who know him have come to call it Blanton Styleóhe listens to all factions and then brings individuals together to solve problems through quiet, strong leadership
Blanton has always been a great proponent of Houston, focusing on its potential as a city of opportunity and serving as the Chairman of the Board of Trustees of the Houston Endowment, the largest private foundation in Texas.
When asked to deliver commencement speeches, his theme is constant: Repay your debt to the society that nurtured you by serving others. He emphasizes that what matters more than financial gain is earning respect, that the answer to success in life involves bringing people together to make things happen for the common good. He often refers to the story of the Good Samaritan.
And like the Good Samaritan, supporting a cause means much more to Blanton than sending a check. He goes the extra mile to offer his time and his leadership to the organization because, he says, "Iíve always felt like it is a lot more fun to be in the middle of the action." In addition to endowing scholarships at Texas colleges, he has also focused on health care, serving on the boards of several Texas hospitals. In 1997, the University of Texas at Austin renamed its art museum the Blanton Museum of Art in his honor after receiving a $12 million donation from Houston Endowment Inc. If Jack Blanton had a motto, he said it would be "more deeds than words."
Jack S. Blanton died peacefully on Saturday, December 28, 2013 in his Galveston vacation home. He was 86.

Our Vintage Sponsors