WHO'S WHO - BENJAMIN J. ROGERS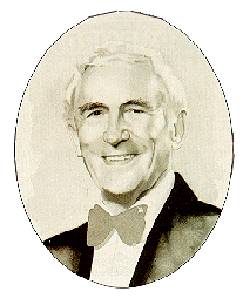 The late Benjamin J. Rogers' influence continues throughout Southeast Texas years after his passing in 1994. A successful entrepreneur who co-founded Texas State Optical (TSO), Rogers also made his mark as a real-estate developer and philanthropist.
Born on June 5, 1913 and raised in Chicago, Rogers was the eldest of six children left fatherless at an early age. He worked odd jobs to help support his family and to help send his younger siblings through college, while he studied business at night school. When his brother Sol moved to Beaumont to establish TSO in the mid-1930s, Rogers soon followed.
TSO broke new ground in two areas: It offered optometrists and eyeglasses in the same location and sold eyeglasses at affordable prices—an important consideration for customers hard-hit by the Depression. The Rogers brothers expanded operations throughout Texas during the next several years. By the time they sold TSO in 1979, the company had more than 100 locations. The business also provided a steady financial base with which to branch into real estate. During the 1950s, Rogers Brothers Investments was created, with Ben as managing partner. The company developed Gateway Shopping Center (Beaumont's first full-service shopping center) and Parkdale Mall (the first regional shopping mall between Houston and New Orleans).
While Rogers continued working with real estate development, he donated more of his time to his community. "I think he always felt he was so blessed, that God had been so good to him," said his daughter Regina J. Rogers. "Although he'd lost his father at such a young age, there had been so many people along the way that helped make a difference for him."
Although Rogers and his wife Julie lent their time, energy, and finances to many charitable endeavors, his main interests were health-related causes and children. Baptist Hospital of Southeast Texas named its cancer treatment center The Julie and Ben Rogers Cancer Institute after Rogers spearheaded a $1 million fund-raising drive. Organizations he served included M.D. Anderson Hospital, St. Elizabeth Hospital, Boys Haven, the Minnie Rogers Juvenile Home, the Julie Rogers Theatre for the Performing Arts, the Babe Didrikson Zaharias Museum, Wuthering Heights Park, Art Museum of Southeast Texas, and Joseph R. Rogers Southeast Texas Community Health Clinic. They also worked with the United Negro College Development Fund Drive and the Lamar University Friends of the Arts Gala.
In 1988, The Ben Rogers/Lamar University/Beaumont Public Schools - "I Have A Dream Program" was established to commemorate Rogers' 75th birthday. "His idea of fun was to get 75 kids together who were impoverished and who didn't often get the opportunity to leave town," recalled Regina Rogers, executive director of the program. "He wanted to fill two buses with those kids and take them to the Astrodome." The program today provides college scholarships for more than 300 children who receive their high school diplomas. "I think the largest legacy he left was in helping individuals achieve dignity and respect," Regina Rogers said. "He did that by offering compassion, understanding, and love."
Ben Rogers died December 14, 1994.

Our Vintage Sponsors