WHO'S WHO - J. S. ABERCROMBIE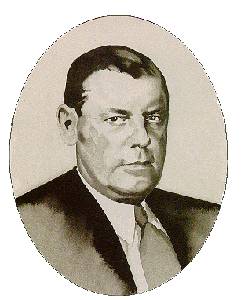 (1891-1975)
Before dismissing all the clichés that could apply to building a successful business—"When you get lemons, make lemonade;" "When opportunity knocks, be sure to answer"—consider the late James Smithers Abercrombie.
Known as "Mr. Jim" to his employees and industry colleagues, Abercrombie transformed a potential disaster for his small oilfield-drilling machine shop into a revolutionary invention and a multimillion-dollar company—Cameron Iron Works in Houston. He helped found Texas Children's Hospital in Houston, for which he served as chairman of the board from its chartering in 1950 until his death in 1975.
"He was always thinking about making things better," said Josephine Abercrombie, his only child. "He told me when I was looking to buy some land, 'When you buy a piece of land, you must leave it in better shape than when you bought it."'
In 1921, Abercrombie, not yet 30, was president of Cameron Iron Works, a drilling parts supplier, and the James S. Abercrombie Company, a drilling concern with five rigs. When gas under extremely high pressure blew out one of the rigs, he and partner Harry Cameron invented the Type MO blowout preventer, which soon became the industry standard for taming high gas pressure.
While drilling on the Old Ocean Field in Brazoria County, Abercrombie found a way to recycle the gas that would flare out, maintaining the pressure while stripping the gas of its liquid hydrocarbons. Cameron Iron Works developed several other patented devices, and by the time Abercrombie retired as president and director at age 75 to become chairman of the board, the company was doing I almost $50 million a year in sales.
That same year, Abercrombie bought a ranch near Gonzalez, where he spent his last years raising cattle and crops. Said his daughter, "He created different ways to preserve crops better than they had been handled before." Eventually, Abercrombie would turn the ranch into a successful business—a feed factory for ranch animals.
Abercrombie was the son of a Huntsville prison warden and started working at age 10 to help support his family. "He started with nothing and made an enormous amount of money," Josephine said. "He believed that he'd been very fortunate to have done what he did," so he believed he needed to give something back. That resulted in Texas Children's Hospital.
Abercrombie and his wife donated $1 million of the $2.5 million needed to cover construction, requesting only that no restrictions be placed on which sick children could be admitted.
He also established the James S. Abercrombie Foundation, which at first benefited the hospital and the Texas Heart Institute. Today, Josephine Abercrombie runs the foundation and focuses on education.
Even though his business ventures were unqualified successes, Abercrombie never let it go to his head, his daughter said. "He treated his employees very fair. He was not a person who went out and chatted with everybody, but he tried to do the right thing. He wasn't going to give anything away, but he was never greedy. His credo was, 'Do a day's work and tell the truth.' He didn't much care for people who didn't do anything."
Our Vintage Sponsors