WHO'S WHO - BEN TAUB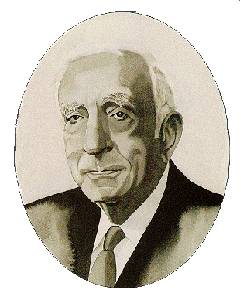 (1889-1982)
The late Ben Taub was a real estate developer and businessman whose extensive behind-the-scenes philanthropic efforts helped build the City of Houston into what it is today.
"He really understood that for a city to grow and be the kind of place for people to want to live in, there had to be someone there who would listen to the people, rather than the powers-that-be," said Margaret Dears Bott, his biographer.
Born near Houston in 1889, Taub served in France during World War I. Upon his return, he worked for his father, who ran a chain of Houston sundries stores under the name I. N. Taub and Sons and owned large amounts of land in the Houston area. As a result, Taub eventually became one of the largest real estate developers in Harris County and owned lumber companies, a molding company, and a concrete manufacturing concern.
Described by his nephew, Henry J. N. Taub, as a good-natured man with a twinkle in his eye and little tolerance for lies or deception, Ben Taub gained his desire to help his community while growing up. "His parents were the key people in his life," said Henry, who runs Ben Taub Interests. "Both did many generous things on the side, things that no one ever found out about."
Ben Taub continued his parents' legacy, focusing on the indigent, the ill, the elderly, and children. He served for years on the board of Harris County Charity Hospital, which honored his hard work by naming a new building Ben Taub General Hospital.
"He took a great interest in the patients of the hospital. He'd actually make rounds with me, even on Sunday mornings, because he'd want to visit with the patients and talk to them about how they felt about the hospital," said Michael DeBakey, M.D., who met Taub at Baylor in 1949. "My memory of Ben Taub is one of a person who had high values, compassion and concern with his fellow man, along with a very philanthropic attitude," DeBakey added.
In addition, Taub served as chairman of the board of DePelchin Children's Center, a children's home, as well as on the boards of the Flake Home and Wolfe Home, homes for widows.
One of his gifts to the City of Houston was land for the University of Houston, which named Taub Hall after its benefactor.
Taub also worked hard to help businesses flourish in Houston. Said Henry, "He gave money, advice, and even shirt sleeves to hang onto." Ben helped launch many of Houston's smaller businesses, either lending the money outright or introducing the budding entrepreneur to a banker who could help with a loan.
During his lifetime, Taub served as chairman of the board for 23 institutions, including American General Insurance Company, Texas Commerce Bank, and Galveston/Houston Company.
Though he died in 1982, his relatives continue his legacy of philanthropy. "I see the same desire to help the community in Mr. Ben Taub's relatives and descendants," commented DeBakey.
Henry acknowledged that his uncle left some huge boots to fill. "I do whatever I can, but not in the magnificent way he did. He was a great individual, and I learned a lot from him."

Our Vintage Sponsors