WHO'S WHO - JOHN F. BAUGH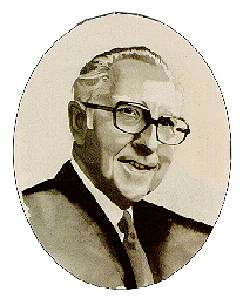 (1916-2007)
The late John F. Baugh took an important post-World War II trend—more families eating out—and created SYSCO Corporation, a multi-billion dollar concern that supplies restaurants, hospitals and other institutions that serve food with quality, frozen edible products.
John F. Baugh was born February 29, 1916 in Waco, TX. Growing up in the Depression era, Baugh began his lifelong passion with the food industry at an A&P grocery store as a stock boy at the age of 13. "I had an executive position when I began there," he said. "I washed the windows and swept the floors." Eventually, he became a store manager and in 1946, he and his wife Eula Mae founded a new company, Zero Foods, and began selling and distributing frozen foods to restaurants, hotels, hospitals, schools, fast-food stores and grocery chains.
Baugh began his college career at Baylor University, while continuing to work at the A&P. When the company closed its Waco store, Baugh moved to Houston, found work at the local A&P and attended school at the University of Houston.
During his early days in Houston, Baugh became fascinated with the idea of frozen foods. The idea that "frozen foods taste better than anything I could grow in my garden," he said, and the fact that more women were leaving their kitchens to enter the workplace, caught Baugh's attention.
In 1969, Americans were eating out more than ever and industry studies predicted that half of all meals would be eaten away from home by 2000. Women who had entered the workforce during World War II were continuing to work; with less time to cook they wanted more food prepared by others. Baugh envisioned a national food service distribution organization and shared ideas with industry friends across the country.
Baugh and his wife decided to capitalize on what they thought might be a booming trend by becoming distributors of frozen foods to restaurants. Although Baugh had his business degree and grocery store experience and his wife helped with the finances, "we had no money, no capital, and no merchandise when we first started out," he said.
For the next several years, the Baughs sold frozen foods to regional institutions. But Baugh wasn't finished. During the late 1950s, he recognized that national chains of restaurants were beginning to emerge. Wanting to take advantage of this trend, Baugh talked to family-operated food businesses outside his direct distribution area.
His dream became a reality when Zero Foods and eight other companies joined together to form SYSCO (an acronym for SYstems and Services COmpany). At the initial public offering on March 3, 1970, the nine companies had aggregate sales of $115 million and served a $35 billion market. In 1977 SYSCO became the leading food service supplier in North America and has since maintained this position. In 1988, an acquisition of its next largest competitor gave the company national coverage. SYSCO's network of 172 locations and approximately 50,000 employees now serves an industry in excess of $200 billion. Mr. Baugh published a book about the company, "The SYSCO Story...Thus Far!" in 2003.
Baugh served as senior chairman of the company's board of directors, and felt that the restaurant industry would continue to grow by leaps and bounds. Working families, he said, mean more people eat out. And more people eating out means more business for SYSCO.
Even more important, Baugh's prediction about phenomenal restaurant growth had proven accurate. According to Baugh, when SYSCO was founded, the institutional dining industry purchased foodstuffs in the range of $30 to $35 billion. Today, restaurants purchase about $135 billion in foodstuffs, and that figure will keep on rising.
In addition to making such a huge impact on the food industry, Baugh was a strong supporter of higher education. He was a founding trustee of Houston Baptist University and regent of Baylor University.
Baugh worked hard for his success, but claimed that it wasn't necessarily the "call of the entrepreneur" that drove him to form SYSCO. "We were driven by the desire to avoid what we'd experienced during the Depression," he said
Baugh continued to work into his later years, not because of fears about scarcity, but because of his gratitude for abundance that comes from his employees. "We have the greatest number of honorable people I've seen assembled at this company," he said. "That's the reason I still like to come to work."
John F. Baugh, the founder of SYSCO Corporation, the $33 billion Fortune 100 global food service marketer and distributor, passed away March 5, 2007. His passing was 37 years, almost to the date, of the corporation's initial public offering on March 3, 1970. Richard J. Schnieders, SYSCO's chairman, CEO and president, said, "His passing is indeed a profound loss. First and foremost, John Baugh was a man of commitment -- to his wife, his daughter, his grandchildren and great-grandchildren, to his faith, his community and to the company he founded that touches so many lives today. A true visionary, a legendary entrepreneur, an inspiration to friends and colleagues and a generous philanthropist, his impeccable integrity and generosity of spirit have imprinted indelibly the character of our organization.
Our Vintage Sponsors