GREAT CITIZENS - JULIA BEDFORD IDESON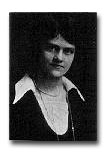 Largely credited with developing the Houston public library system into the institution it is today, Julia Bedford Ideson was born on July 15, 1880, in Hastings, Nebraska, to Rosalie (Beasman) and John Castree Ideson. She attended Hastings public schools until 1891, when her father moved the family to Houston. After graduating from Houston public schools, she entered the University of Texas at Austin as a member of the first class to study library science at that institution.
After graduation from college in 1903, Ideson became city librarian in charge of the new Houston Lyceum and Carnegie Library. Dedicated on March 2, 1904, the library resulted from Andrew Carnegie's $50,000 gift to Houston in 1898. Serving as president of the Texas Library Association from 1910-1911, Ideson took a leave of absence from her duties at the Houston library and spent the year of 1913 in Paris, France, as secretary of the American Art Students' Club. Upon her return to Houston, she became involved in the third Liberty Loan Drive for World War I bonds as a member of the Harris County Women's Committee. Ideson also organized the library at the United States Army's Camp Logan, the American Library Association assigned her to Camp Pontenezeon in Brest, France.
After the end of World War I, Ideson launched a campaign to broaden the funding base for the Houston public library system. Joined by the library board, the newspapers and civic groups, Ideson, in 1921, secured the passage of a city ordinance earmarking a percentage of city taxes for library purposes. In October 1926, a new central library building replacing the outgrown Lyceum opened in downtown Houston at Smith and McKinney.
From 1932 to 1934, Ideson served as president of the Southwestern Library Association and, in 1932, became the first Houston woman to be listed in Who's Who, a compendium of leaders of American thought and accomplishment. She also edited volume numbers two and four of the Handbook of Texas Libraries and, while still chief librarian of the Houston public library system, directed the opening of six branches and a bookmobile.
Some six years after her death on her sixty-fifth birthday in 1945, the central library building was renamed in her honor to commemorate Ideson's long years of service to the library system. The Spanish Renaissance Revival-style Julia Ideson Building, replaced by a new, modern central library building dedicated in January 1976, was renovated and reopened on November 4, 1979 to house the Texas Room and its extensive collection of materials relating to Houston and the state.
Our Vintage Sponsors