GREAT CITIZENS - NINA VANCE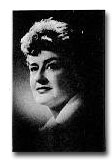 The work of Nina Vance, on the cultural scene both at the local and the national levels, benefited the vital institution that complements Houston's Civic Center. Artistic director and founder of the Nina Vance Alley Theater, Mrs. Vance was born on October 22, 1914 in Yoakum, Texas, and attended Texas Christian University, Columbia University and the American Academy of Dramatic Arts. In 1947, Vance mailed 214 penny post cards, invitations to artists and potential sponsors to join in forming a theater-in-the-round, to be located off a Houston alley. The result was the Alley Theater.
Although it began modestly, as an 84-seat theater, the Alley is now one of the nation's leading regional repertory theaters, showing new as well as classical productions. It is also one of the three oldest resident theaters in the United States. In 1968, the Alley Theater moved into its present home, adjacent to the Oscar F. Holcombe Civic Center, at the corner of Texas and Louisiana.
Nina Vance's tenure at the Alley brought her both professional and personal recognition. In 1958, the English Speaking Union sponsored Mrs. Vance in touring British repertory theaters. The following year, the Ford Foundation awarded her a director's grant. In 1960, President Kennedy invited Vance to serve on the advisory committee of the proposed National Cultural Center, now the Kennedy Center for the Performing Arts, Secretary of State Dean Rusk appointed her to two terms on the United States Commission on International Education and Cultural Affairs, the only woman to so serve. Vance was one of seven American directors who observed contemporary Soviet theater in Moscow, while touring the U.S.S.R. at the invitation of the Soviet Ministry of Culture and the United States Department of State. As a result of this trip, Echelon, a Russian play, was recreated in the United States in 1977 under the direction of Galina Volchek, its original director. Vance received numerous other awards, including the Matrix Award of Theta Phi, the Outstanding Alumni Award of Texas Southern university and the Houston Y.W.C.A. Women of the Year Award. After a long illness, Vance died on February 18, 1980 at the age of 66 in Houston. The Alley Theater was renamed The Nina Vance Alley Theater in her honor.
Our Vintage Sponsors