GREAT CITIZENS - HUGH ROY CULLEN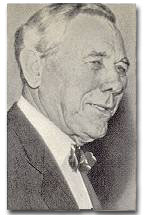 Like Jones, his contemporary, Hugh Roy Cullen, oil man, "King of the Wildcatters" and philanthropist, loomed large on the Houston scene. Born on July 3, 1881 in Denton County, Texas to Louise (Beck) and Cicero Cullen, a farmer, he was the grandson of Texas legislator Ezekiel W. Cullen, who advocated the establishment of the Texas public school system.
His formal education in the San Antonio public schools was limited to a few years. Cullen began to work for a cotton broker when he was sixteen years old. Like Anderson and Will Clayton, Cullen entered the cotton business and also began to deal in real estate. On December 29, 1903, he married Lillie Cranz in Schulenberg. They had four daughters and a son. In 1911, they arrived in Houston.
While still involved in cotton, Cullen began his association with the oil industry as a lease hunter for James Cheek, the developer of Magnolia Park and the builder of the M and M building. In 1918, Cullen became an independent oil driller. Perfecting the method of drilling deep wells, he was extremely successful in finding oil in fields hitherto considered unproductive. Among his major oil strikes in southeastern Texas were those at the Pierce Junction, Rabb's Ridge, Blue Ridge, Humble, Thompson and Tom O'Connor fields. A part owner of the South Texas Petroleum Company, which is still operated by his heirs from Cullen Center.
Cullen was particularly proud of his Humble oil discovery because he had to overcome a heavy shale problem. Another of his major strikes was at Blue Ridge, J. M. West, Sr. had offered to invest three million dollars for Cullen to drill there, proposing to give him a one-forth share in any oil he found. Cullen turned West down and insisted that they invest equally. Several gushers were subsequently struck. While West sold his interest to the Humble Oil and Refining Company for twenty million dollars, Cullen developed the rich Tom O'Conner field with his profits. Since then, his Quintana Petroleum Company has been one of the major producers of oil in Texas.
In 1936, the University of Pittsburgh awarded him an honorary doctoral degree for his achievements in the oil industry. An advocate of states' rights, Cullen opposed many of the 1930's New Deal measures. In Texas, he actively supported W. Lee O'Daniel for governor in 1938 and 1940, and O'Daniel's successful bid for a United States Senate seat in 1941. In 1939, Cullen served as vice-president of the Texas World Fair Commission.
An early backer of the University of Houston, Cullen donated more than 11 million dollars to the institution for various projects, and served as chairman of its board of regents. In addition, he contributed an equal sum to health care projects in the city. In 1947, with an initial endowment of some 160 million dollars, he established the Cullen Foundation, which continues to benefit education and medical research in Houston.
In 1945, Cullen received honorary degrees first from Baylor University and, two years late, the University of Houston in recognition of his achievements in the oil industry and of his interest in education. Cullen served as director of the Boy Scouts of America and became an honorary member of the American Hospital Association as well as a member of the Sons of the Republic of Texas.
By 1955, it was estimated that Hugh and Lillie Cullen had given away some 90 percent of their fortune to charitable causes. The major beneficiaries, the University of Houston and the Texas Medical Center, honored Cullen by naming key buildings for him. Texas Southern University, Baylor Medical College, the Houston Symphony and the Houston Ship Channel were other recipients of the Cullen Philanthropy. Hugh Roy Cullen died in Houston on July 4, 1957 at the age of 76.
Our Vintage Sponsors