GREAT CITIZENS - HOWARD ROBARD HUGHES, SR.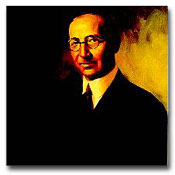 Inventor Howard Robard Hughes, Sr. became involved in the oil industry while it was still in its infancy. Hughes revolutionized the process of drilling for oil with his invention of the first rotary rock bit.
Born in Lancaster, Missouri, on September 9, 1869, to Jean Amelia (Summerlin) and Felix Turner Hughes, the young Hughes spent his boyhood in Keokuk, Iowa, where his father maintained a successful law practice. After studying law at Harvard University and the University of Iowa, Hughes returned briefly to Keokuk to join his father's law firm. He left, however, to engage in zinc and lead mining in Joplin, Missouri. In 1901, just a short time afterwards, news broke of the Lucas Gusher at Spindletop south of Beaumont. Scores of oil lease hunters, including Hughes, flocked to Texas.
Around 1906, Hughes became interested in finding a solution to the problem of drilling through hard rock formations and began experimenting. While working in 1908 in Oil City, Louisiana with his business associate, Walter Sharp, Hughes produced a small wooden model of a roller-type bit with cone-shaped tooth cutters. The following year, he successfully tested the first rotary rock bit in an oil well at the Goose Creek field, just east of Houston. Since it was the first cone-type rock bit featuring rolling cutters, capable of drilling faster and more efficiently, he formed, with Walter Sharp, the Sharp-Hughes Tool Company to manufacture and market his new bit and tool joints.
Hughes is credited with the invention of numerous other time and money saving drilling services. With his operation headquartered in Houston, his early advances in rotary drilling technology focused attention on the city as the world's leading manufacturer of drilling equipment and tool joints. After Sharp's death in 1912, Hughes bought Sharp's share of the business, and in 1915 renamed the firm the Hughes Tool Company. Hughes died on January 14, 1924, at the age of 54, leaving the bulk of his million dollar estate to his son, Howard Robard Hughes, Jr., an eighteen-year old student at Rice Institute.
Our Vintage Sponsors