GREAT CITIZENS - GLENN H. McCARTHY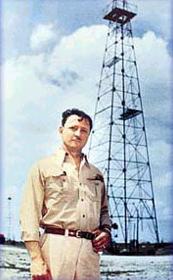 Glenn H. McCarthy, the "King of the Wildcatters," was an independent oil operator, a bombastic, plucky Irishman best known for building the famous Shamrock Hotel, indulging in fist-fights at his Cork Club and being the model for Edna Faber's Texas oilman Jett Rink in her novel, "Giant."
He was born in Beaumont, Texas, on 25th December, 1907. Glenn McCarthy began working as a water boy at the age of eight in the Beaumont oilfields, where his father, Will McCarthy, worked, earning a wage of fifty cents a day.
In 1917, Will McCarthy moved his family to Houston's Fifth Ward where they stayed for a short time while he sought out to establish the family fortune in wildcat drilling near the city. Unfortunately, he was unsuccessful and the family returned to Port Arthur where the young McCarty resumed his studies at Franklin School. Once again, the family returned to Houston and enrolled their son into the Fannin Grade School. After the six grade, he entered San Jacinto High School were he set out to excel in football. At seventeen, McCarthy enlisted in the Navy but after a short period and no military career in sight he left and returned back to San Jacinto High School.
McCarthy won a football scholarship from Warren Easton, a New Orleans preparatory school, to Tulane University but this was brought to an end by a ankle injury. He transferred to Texas A&M, and was later expelled for hazing. McCarthy was recruited to play fullback on the freshman team at Houston's Rice Institute in his early twenties, with notable players such as Tom and Dick Driscoll, and Jap Thrasher.
McCarthy married Faustine Lee, daughter of oilman Thomas P. Lee, and decided to leave college and enter the oil business. He first discovered oil at Anahuac, near Trinity Bay on the Gulf Coast. Between 1932 and 1942 McCarthy struck oil 38 times. This included the discovery of eleven new oilfields in Texas.
In 1949 McCarthy spent $21 million building the Shamrock Hotel in Houston. The opening of the hotel took place on Saint Patrick's Day. McCarthy rented an entire train, to transport a few movie stars from Los Angeles to Houston. All told, 3,000 people were invited to the party that cost an estimated $1 million.
Also known as "Diamond Glenn" McCarthy was estimated to be worth $200 million by 1950. At this time he had over 400 gas and oil wells in Texas and was president of the United States Petroleum Association. His friends included Howard Hughes, John Caroll, John Wayne and Natalie Wood.
McCarthy owned several companies including the McCarthy Oil and Gas Company, the Beaumont Gas Company, the Houston Export Company, KXYZ Radio, the McCarthy Chemical Company, the McCarthy International Tube Company. He also owned two banks, fourteen newspapers, a magazine and a movie production company. McCarthy was also the chairman of Eastern Airlines.
His Flamboyance concealed the fact that McCarthy had a visionary image of Houston and an entrepreneurial stake in almost as many enterprises as Jesse H. Jones.
In his later years, Glenn McCarthy lived a low-profile life in a two-story house near La Porte and died on 26th December, 1988. He was buried in Glenwood Cemetery next to his beloved wife, Faustine. Together they had five children, Leah, Faustine, Glenna, Glenn Jr., and Mary Margaret whom passed away in her 40's.
Our Vintage Sponsors