OUR LEGACY - Post War
Development was not confined to industry and the economy. The Houston Zoological Gardens were established in 1941. The next year, voters authorized the sale of 131 acres of land adjacent to Hermann Park to the M.D. Anderson Foundation for the Texas Medical Center. The foundation was established in 1936 by Monroe D. Anderson of Anderson, Clayton and Company, international cotton brokers. Anderson was the moving force behind the idea of a major health care center in Houston. The M.D. Anderson foundation is still a major Houston philanthropic force. In 1943, the foundation successfully wooed the Baylor College of Medicine to the city from Dallas, where the college was founded in 1900. The only private medical school in Texas, Baylor was part of the Baptist-affiliated Baylor University until 1969.
At the end of 1944, the M.D. Anderson Foundation started the construction of the Texas Medical Center on the triangular site bounded by Fannin, Bellaire and the Herman Hospital and Park. In 1945, it formed the Texas Medical Center Corporation to oversee development. In February 1946, the Texas Medical Center was formally dedicated.
The years following World War II were characterized by enormous urban growth and prosperity in Houston. City engineers laid plans for the construction of radial arterials and the "loop" system of freeways. Work began on the projects, which were anticipated to provide comfortable road access from one part of town to another for a long time into the future. The planners, though, underestimated the volume of traffic the freeways were later expected to handle. Not many could have guessed at the numbers of automobiles and people that Houston would attract in the next thirty years.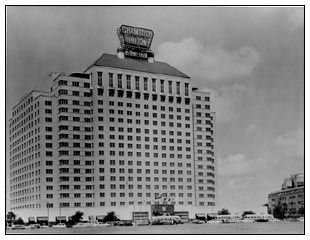 Prominent among the structures erected downtown in the postwar construction surge was the magnificent Foley's building, which opened in 1947 and quickly became one of the most popular stores in Houston. Houston's steady parade of progress was not without levity and flamboyance. More fanfare accompanied the opening of oilman Glenn McCarthy's "63 shades-of-green" Shamrock Hotel on St. Patrick's Day 1949 than Houston had seen at any other opening celebration. Situated on a fifteen-acre parcel of land south of downtown area, the hotel was later renamed the Shamrock Hilton.
Our Vintage Sponsors