OUR LEGACY - The Last Quarter of the Nineteenth Century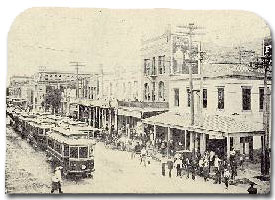 Free from the imposed restraints of the postwar recovery period, Houston now embarked afresh on a new course of civic and economic development. Both of present-day major daily newspapers first set up shop in this period: the Post in 1880, with J. L. Watson at the helm, and the Chronicle in 1901, with Marcellus E. Foster, a former Post editor, as its publisher. In 1895, William Sydney Portor-- who later achieved fame under his pen name of O. Henry—joined the Post's staff.
According to the United States census, the population of Houston in 1880 stood at 16,513. But by 1890, a thriving Houston claimed 27,557 in the decennial count. Two years later, the development of the area known as Houston Heights began across the Buffalo Bayou from the original Allen brother's downtown Houston.
Between 1875 and 1900, the city registered several Texas first: the telephone was introduced in 1878, the electric streetcar in 1891 and, in 1897, the automobile—bearing with them the spawning of industry and much of the growth of twentieth century Houston.
And Houston began to reap returns from the fortunes made by some of its more prosperous citizens. In 1891, William Marsh Rice returned to Houston from New York City. He set up an initial $200,000 fund to establish an educational institution in Houston "for the advancement of literature, science and art." Events surrounding Rice's murder in 1900 delayed the fulfillment of his dream until 1911 and on the 75th anniversary of the Texas Declaration of Independence, the cornerstone of the institution's administration building was laid.
Now called Rice University, and referred to as the "Harvard of the South," the private Rice Institute ranked as the seventh wealthiest educational institution in the nation when it finally opened in 1912. Houston claimed other benefactors during the late nineteenth century.
In 1893, in one of his first philanthropic gestures, George H. Hermann donated a site near the embryonic Rice Institute for the charitable hospital that later bore his name. In 1898, a philanthropic gesture of a non-Houstonian, New York's Andrew Carnegie, reached the city in the form of a $50,000 endowment for a public library.
Our Vintage Sponsors