OUR LEGACY - Revolution and Texas Independence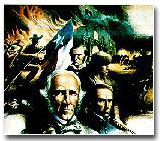 In 1833, the Anglo-American settlers' independence movement came into the open. By 1835 war with Mexico seemed inevitable. The Texans formed a provisional government at San Felipe in November and named General Sam Houston, former United States congressman and governor of Tennessee, as commander-in-chief of its army. In the middle of February, under their president, General Antonio Lopez de Santa Anna, the Mexicans besieged the fort of Alamo in San Antonio. The defenders' heroic stand in the face of overwhelming odds served to deepen the resolve of the other Texans. Meeting at Washington-on-the-Brazos on March 2, 1836, four days before the Alamo fell to Santa Anna's troops the provisional government declared Texas independent. Fighting to the last man, such heroes as James Bowie and David Crockett went down with the Alamo. The ragged Texas army would later remember their feat in its battle cry.
The temporary congress named David G. Burnet provisional president and established Harrisburg as the seat of government. Determined to crush the revolution, Santa Anna pursued the retreating Texas army. Intent on taking Harrisburg, Santa Anna marched to the town, arriving on April 14, 1836. But Burnet and the cabinet heard of the threat and fled to Galveston. Foiled, the Mexican general ordered the town of Harrisburg burned and continued eastward in pursuit. On April 20, 1836, after traveling 22 miles from Harrisburg, the Mexicans stopped on the peninsula created by the confluence of Buffalo Bayou and the San Jacinto River, opposite the camp of General Sam Houston and his Texans.

Houston, in the meantime, regrouped the Texas forces and positioned his outnumbered army on the peninsula. On April 20, the Mexicans and Texans fought a few minor skirmishes but, playing for time and opportunity, Houston avoided full-scale engagement. In the middle of the afternoon of the next day, as the overconfident Santa Anna enjoyed his siesta, Houston and 910 of his Texans stormed the 1,300 or more sleepy Mexicans in one of the epic battles of Texas history. With the battle cry "Remember the Alamo!" the Texans destroyed the Mexican army, killing half and taking the other half captive. The battle lasted only eighteen minutes. But, by the end of it, the ragged Texas army, composed of American expatriates, had won for Texas both independence and nationhood. In exchange for his freedom Santa Anna—then self-proclaimed "Napoleon of the West"—relinquished Mexico's claim to Texas. The battle of San Jacinto, as it became known, led to the creation and independence of the Republic of Texas and, later to the treaty by which Texas joined the United States.
Our Vintage Sponsors