GREAT CITIZENS - COLONEL EDWARD MANDELL HOUSE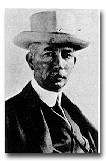 Known for his skill in behind-the-scenes diplomacy and for his role in negotiating peace terms at the end of World War I, Colonel Edward Mandell House was born on July 26, 1858, to Mary Elizabeth (Shearn) and Thomas William House. His father was a prosperous banker with large holdings of sugar cane and cotton lands. A frail child, House was educated in the Northeast at Hopkins Grammar School in New Haven, Connecticut, and at Cornell University, which he entered in 1877. He returned to Texas upon the death of his father in 1880.
House became involved in state politics during the 1892 reelection bid of Governor James S. Hogg. Winning reelection in a stunning upset victory, Governor Hogg declared House an honorary colonel in the state militia.
Regarded by his friends as the epitome of an ideal gentleman, Colonel House was credited with securing the elections of Governors Hogg, Charles A. Culberson (1895-1899), Joseph D. Sayers (1899-1903) and S.W. Lanham (1903-1907). On the national scene, he was a pivotal figure in the election and administration of President Woodrow Wilson, who assigned him the responsibility for selecting the cabinet, which included three Texans. His role in the Vienna Congress, called to negotiate the peace terms at the conclusion of World War I, earned him the respect and admiration of leaders of several European countries. Several of these countries have erected statues of Colonel House in recognition of his actions.
Often described as a power broker and as the founder of the modern Democratic party of Texas, Colonel House avoided holding or accepting public office himself. He believed that doing so would have interfered with his effectiveness and freedom. Colonel House died on March 28, 1938 at the age of 79.
Our Vintage Sponsors