GREAT CITIZENS - GAIL BORDEN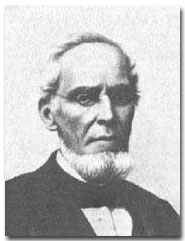 Long before he became famous for the invention of condensed milk, Gail Borden, Jr., lived in Galveston for 14 years. Born in New York in 1801, he traveled to Texas in 1829. He started a newspaper, became the customs agent for the Republic of Texas, surveyed the land for the city of Houston, and helped sell land for the for the city of Galveston.
Above all else he was an inventor, and one of his worst failures was the terraqueous machine. This was a wagon with a sail on it that could move on land or water. He tested it first with friends at midnight on the beach but had to put on the brakes because his passengers were so frightened. The second test came in daylight, and with the wind full in his sail he headed straight into the surf. The wagon tipped over 50 feet offshore. No one was hurt, but everyone got wet. When asked where Borden was after the accident, one of the dripping adventurers said, "Drowned, I do most sincerely hope. He richly deserves hope.
Borden did not drown and he continued to invent. He became particularly fascinated with the thought of condensation, or a chemical reaction to reduce a substance to a denser form. He tried it first on meat and made a foul-tasting meat biscuit. It was nutritious, but no one wanted to eat it. In 1856 he succeeded in condensing milk and later made a fortune with the Borden Company in Connecticut.
He died in 1874 but left an interesting thought for lovers. Joe B. Frantz, his biographer, quoted Borden:
"The world is changing in the direction of condensing... Even lovers write no poetry, nor any other stuff and nonsense, now. They condense all they have to say, into a kiss."
Our Vintage Sponsors