LANDMARKS - The Modern Skyline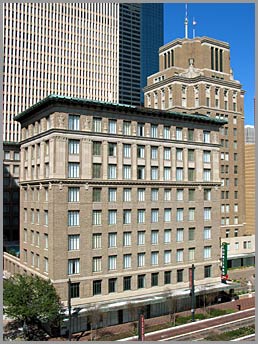 Rising above the flat prairie terrain, the towering skyline of the city's energy and enterprise. Beginning in the 1920's the old skyscrapers have symbolized industrial development, the growth of financial institutions and expansion of the city's international commercial base. Among these are the Humble Building at 1224 Main Street, built in 1921; The Petroleum Building, 1314 Texas Avenue, built in 1927; the Niels Esperson Building, 808 Travis, built in 1927; and the Gulf Building, at 712 Main Street, built in 1929. The Federal Land Bank Building, located at 430 Lamar Street, of Spanish Renaissance Revival style, 1928, has been remodeled twice, the last time in 1978.
After World War II the central business district changed as taller multipurpose building complexes became more numerous. Notable among these are the trapezoidal Benzoic Towers, Allen Center, Houston Center, Cullen Center and the 50-story One Shell Plaza building, which is one of the largest reinforced concrete structures ever built. While the Cullen Center, the Allen Center and the Shell Plaza complexes provide mostly office space, the Houston Center, which is now in its first phase of development, will also have housing, hotels, theaters and shopping facilities.
New additions to the downtown skyline include the Texas Commerce Tower and The Allied Bank Plaza, the tallest buildings in the United States outside of New York and Chicago. Architect I.M. Pei has designed the 75-story Texas Commerce Tower, at Texas and Travis, completed in 1981, is the tallest building in Houston as well as the Southwest. The Allied Bank Plaza structure is just 28 1/2 feet shorter. The 55-story First International Plaza, at Dallas and Smith, was completed in 1980.
The 30-story Hyatt Regency Hotel, located at the intersection of Louisiana and Dallas, is famous for its exterior elevators and the Spindletop, a revolving restaurant situated on its roof.
Other business districts around the city feature equally imposing architecture. Glenn H. McCarthy spurred development of the area farther south on Main Street when he bought 15 acres of land at the intersection of Holcombe Boulevard and South Main, where he built the Shamrock Hotel, a massive structure with a green roof inaugurated in 1949 with a still unmatched fanfare. Other developments outside the downtown area have altered the skyline in the midst of residential neighborhoods of the city. The Galleria, designed by Hellmuth, Obata and Kassabaum of St. Louis, with an eye on Milan's famous old Galleria Vittoria Emmanuele, contains shopping malls, theaters, hotels and restaurants. Greenway Plaza is more office oriented, boasting several skyscrapers as well as a sports arena. The Summit, a shopping mall and a hotel.
Our Vintage Sponsors